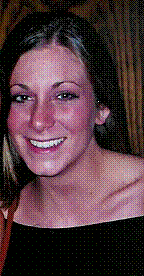 Quote of the Week:

Sisters don't need words.

They have perfected a language of snarls and smiles

and frowns and winks

- expressions of shocked surprise

and incredulity and disbelief.

Sniffs and snorts and gasps and sighs

- that can undermine

any tale you're telling.

Pam Brown
Hey Ladies! Just a quick end of the year update.
Wednesday Dec. 10th- Last meeting of the semester, its formal and come ready to learn about self-defense.
Thursday Dec. 11th-9pm kick-boxing Sisterhood
Also, ladies I wanted to let you know that we set the date for Moms Weekend, Laura Kay and Laura Bader are taking ideas. Its MARCH 26TH-28TH.
Also, quick reminder: Dont forget to buy a little something for our adopt-a-family, you can check on our website to see what has already been bought, and what needs to be bought. Also, remember at the last chapter meeting we agreed that we would use some of the budget to buy the parents their gifts, so we could all concentrate on the children.
Visit www.finddru.com for updates on Dru, wear you ribbon in support.
Get pumped for the recruitment!
See you all soon.
Love in PKE,
Leigh Ann Seiple